Custom windows desktop
How to achieve a custom windows desktop? With Rainmeter and help of its widgets it is easy to give a new look and feel to your windows desktop.
It can be downloaded from official site http://rainmeter.net/
I am using the 3.3 Beta Release and chosed to use the portable version during installation so my settings are stored on one place.
Huge community exists which creates themes / widgets for rainmeter and its widgets. Those are combined / tweaked to create wished look and feel.
Overview of sites with rainmeter skins / themes:
http://rainmeter.deviantart.com/gallery/
http://customize.org/rainmeter
Example of theme which I created with combination of different widgets.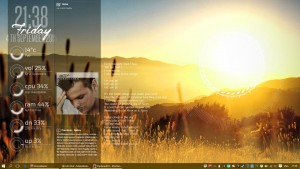 Skins / widgets used for my desktop:
Following parts of the above widgets where activated: